In school geography I think almost everyone learns, that there are place far out in the north where sun does not set for a few months in summer and the sun does not rise for a few months in winter. We tropical kids (I am from Mumbai, India!), cannot possibly fathom this sentence. However, right then it had stuck in my mind. In summer of 2016,during my visit to Stockholm, Sweden, I had a chance to make this dream a reality. So I planned a trip to Norway's Lofoten Islands. These are unbelievably beautiful string of Islands.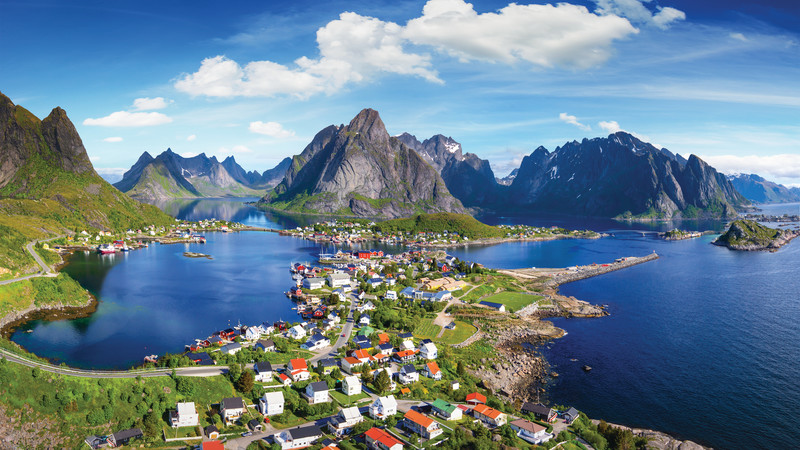 For the unaware (I was unaware of this place before the planning stage of this venturing), Lofoten Islands are in Norway's Norland (province). The islands are above the arctic circle (Latitude 66N). You would imagine this place as a frigid place, so did I, but on the contrary it is surprisingly warm for its northern location. Winter lows are hardly below -5 degrees celsius and summer temperature are around +10-15 degrees celsius.
My trip plan was a simple plan. No hotel bookings, no GPS, cell phone only for emergency. Since it was summers, I planned on a camping trip. To access the Lofoten islands, the closest airport is 'Harstaad/Narvik Airport' (EVE), it is located in the town of Evenes, hence the name. It is actually quite hideous. There are daily flights to EVE from Oslo on Scandanavian airlines. Another way to get here is through Kiruna in Sweden or Tromso (largest city above the Arctic circle).
In Scandinavian, there is a law, 'Right to access'. The interpretation of which is that you are free to camp on unoccupied lands as long as you don't disturb the nature and no one complains. Awareness of this law helps you get around Scandinavia in a cost efficient manner. Typically hotel rooms in Norway are around 150 USD a night. Next is transport, I rented a car and drive around myself. Also be aware Petrol in Scandinavia is one of the most expensive in the world, at about 2.5 USD a liter. Car rentals are also expensive by European standards. So, a carefully planned budget is need to get around Lofoten Islands. Also it is useful to be aware that cash is NOT a popular form of payments and you need a Mastercard/Visa for literally everything. Expect to be charged 20% more if you use cash at best.
Day-0: Arrival at Harstaad/Narvik Airport
In the afternoon I arrived at EVE and took the bus to Narvik city. It was fairly expensive at 320 NOK (Norwegian Krone, pronounced Crowns. This is almost 50 USD, Welcome to Norway :D) for a 1 hour journey. Narvik is a beautiful small town. I found my AirBnB and walked around town.
I patiently waited until 12am to click this pic: It is like a dream come true for the little kid in me. So the sun at night actually does happen.
Day-1: Set off on E-10
I picked up the car from Avis (this is not an advertisement) and get set go fully unplanned. I was just aware that at the end of highway there is a town called 'A' (pronounced OOO).
Having stopped almost every 10 min I managed to reach only until Svolvaar (200km from Narvik) by the end of the day. The scenery was so incredibly beautiful…!
On Lofoten Islands in Summer, day and night has no meaning literally. So, I managed to get supplies from Svolvaar (there is a well stocked supermarket here) and hunting a camping place.
Day-2 to 4: Deeper on E-10
I was camping on the camp ground, and met some pretty interesting people. The grounds manager asked me if I wanted his boat. I was tempted, but didn't have the courage to venture on the seas by myself. Lot of travelers do fishing (these waters are rich in Salmons and Baas), BBQ it and call it a day. But may be next time, I will try. Continuing further the scenery gets even more dramatic. There are quite a few bikes (cycle) do the Lofoten islands. On camping grounds everyone is so willing to share their experiences. I met a few people who were doing a bike trip from Norway all the way to Iran.
I managed to reach 'A' at the tip of the Lofoten islands. Camping all the way.
There are some pretty amazing beaches around Eggum. Water is too cold for swimming though. However, weather got too bad to enjoy it. Lofoten islands is a very windy place.
On the way back, I spend a day to this cute town Heinsgvar and this was the only time I set my foot in a restaurant. It was actually a pretty ordinary sea food restaurant and set me back 300 NOK (about 40 USD) for meal for 1 person.
Somewhere on a sideroad, I happen to have put the car in a ditch. Emergency service official were very helpful though and got their tow truck to get this out. A bit of a scare.
After some more camping and some more cute towns, I was back to Narvik. From there I took a train back to Stockholm. It is a 16hr train ride, sleeper coaches were quite nice though so was the restaurant on the train.
Finally the next day got into a train from Narvik to Kiruna to Stockholm.
If I could come back here again (in summer) and have a few more days, I would love to get myself to Northern part of Lofoten to the town of Andenes. Next I totally missed out on the Abesco national park. It is a superbly beautiful alpine national park. For the winters, staying in Tromso is a good choice, who would want to miss the spectacular Aurora Borealis aka Northern Lights. Hope to someday see those..!